Our Curriculum
Each term, in the class newsletter, parents will be made aware of the curriculum being taught for the term. In addition, knowledge organisers are posted on the class blog. These knowledge organisers give information about vocabulary, main points for learning and additional websites and activities to support children's learning.
Early Years Foundation Stage
Foundation Curriculum
The Foundation Curriculum is based on the Department for Education and Skills document called the Early Years Foundation Stage. This sets out the knowledge, skills and understanding which young children should have acquired by the end of the academic year in which they reach the age of five.
The curriculum is organised into seven areas of learning:
Personal, Social and Emotional
Communication and Language
Physical development
Literacy
Mathematical development
Understanding the world
Expressive Arts and Design
​Personal, social and emotional learning is a very important aspect of children's development as it supports them learning how to work independently; how to share; how to behave appropriately and to generally develop skills that will help them to become effective learners.
These seven areas are used by teachers to plan the learning environment, activities and experiences for children in the foundation stage classes.
Click here for a Parents' Guide to the Early Years Foundation Stage Framework.
English
English is a core subject of the National Curriculum and a pre-requisite for educational and social progress as it underpins the work undertaken in all areas of the curriculum. At Queensway, we strive to ensure that all our pupils receive a well-rounded learning experience when reading, writing, speaking and listening which will equip them with the fundamental tools to achieve in school and beyond.
Reading
We are committed to promoting reading for pleasure; we strive to instil a love for reading, a passion for discovery and a confidence to explore the imagination. The school takes part in World Book Day, teachers organise class visits to the local library, plan author visits and have systems set up in Key Stage one and Key stage two to reward children who read books at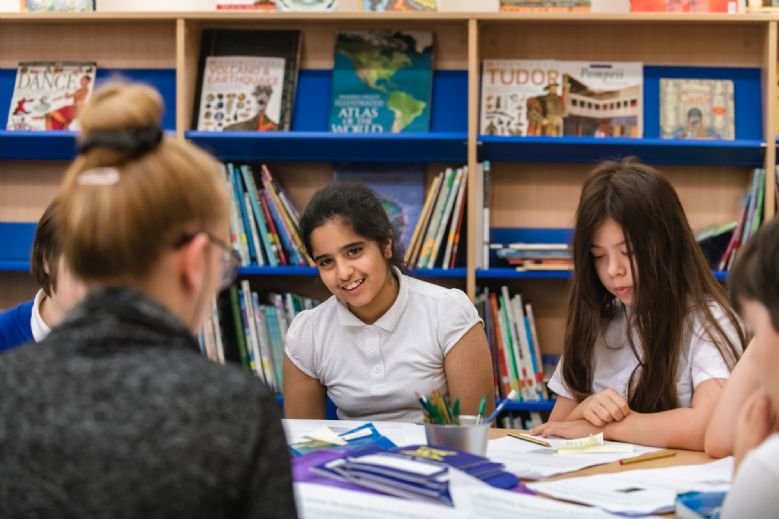 home. To encourage parents' involvement in reading we have reading advice booklets, parent workshops, phonics information on the Foundation Stage and Key Stage One class pages. All children will have a variety of reading experiences; this includes guided reading (reading and comprehension in a small group), 1:1 reading (with individual bookmarks for the children's targets), children reading independently, hearing stories in class or in the reading assembly. Children may also read with Arch reading volunteers or parent volunteers.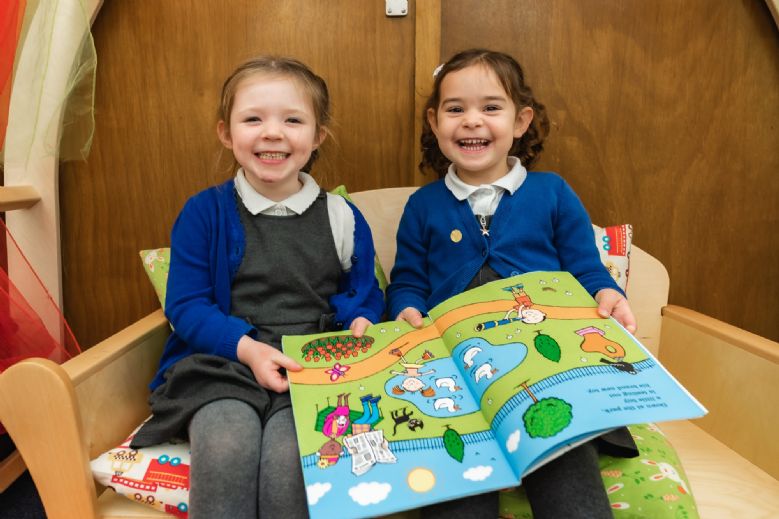 In the early stages of reading the focus of teaching is the development of phonics and the application of this knowledge in reading. Learning and application of phonics are inseparable and linked together through reading and writing. Children will have a wide experience of books, and in addition vocabulary. Another important strand of reading is the children's understanding of what they are reading. For planning and teaching, teachers focus on the content domains (as set out in the National Curriculum) for each key stage. Our progression of skills document and assessments are linked with these domains. In Key stage 2 the domains are taught through the "Vipers" questioning strategy.
For the teaching of reading teachers use a variety of books and texts, this could include books from a reading scheme, magazines, newspaper articles, web pages, fiction and non-fiction books. We do not follow a particular reading scheme but use a variety of books from different sources.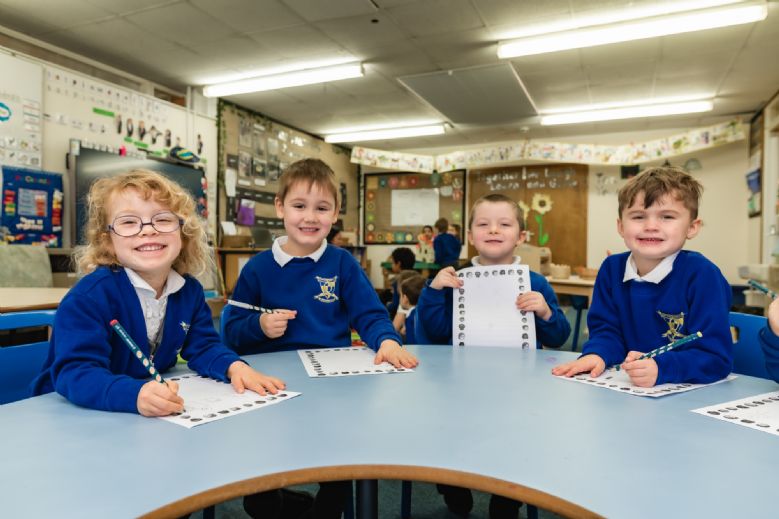 Writing
We aim to inspire the children to be excited about their writing and achieve their full potential. As a staff we hope to pass on our enthusiasm and help the children to believe that they are valued writers. Children are taught in mixed ability groups, but activities are differentiated to support the children's needs. Our Queensway approach to writing follows a sequence of learning beginning with exploration of the text type (also linked with guided reading), examining and practising the grammatical features, linguistic content and the style of language within a text, planning for writing, teachers modelling the writing and children writing independently. Spelling and grammar are taught in specific lessons but will be applied through independent writing. Children are encouraged to plan, draft and edit their work as part of the writing process. In the Foundation Stage and Key Stage One, children are encouraged to apply their phonic knowledge in order to write with independence.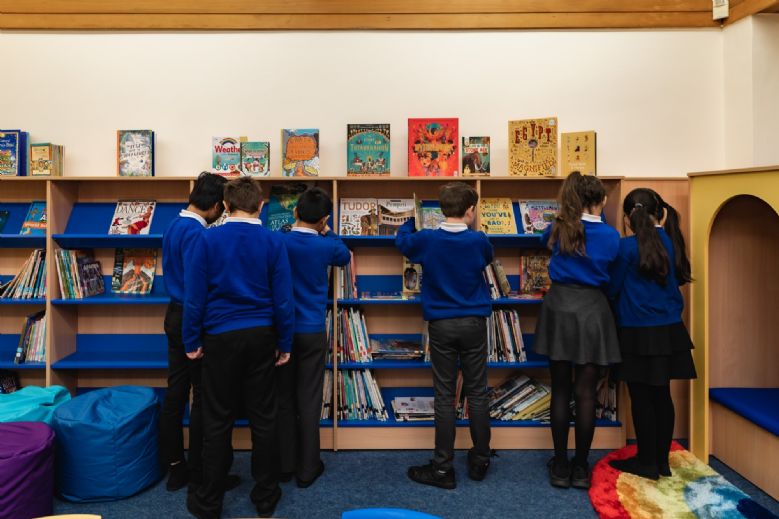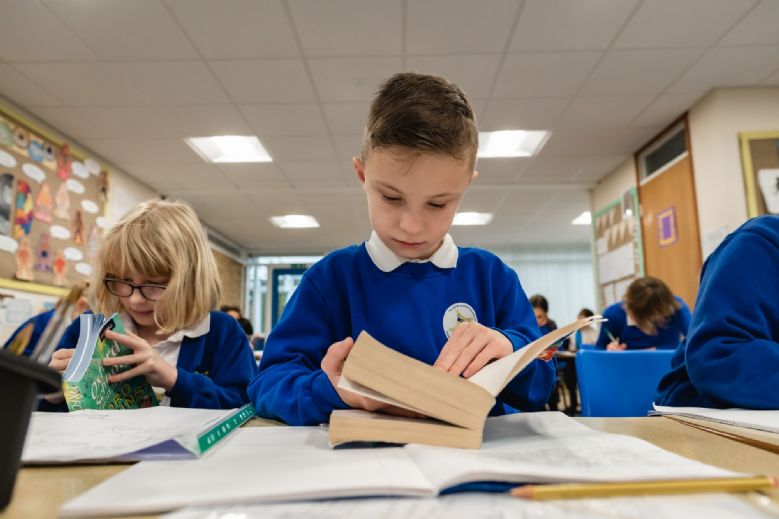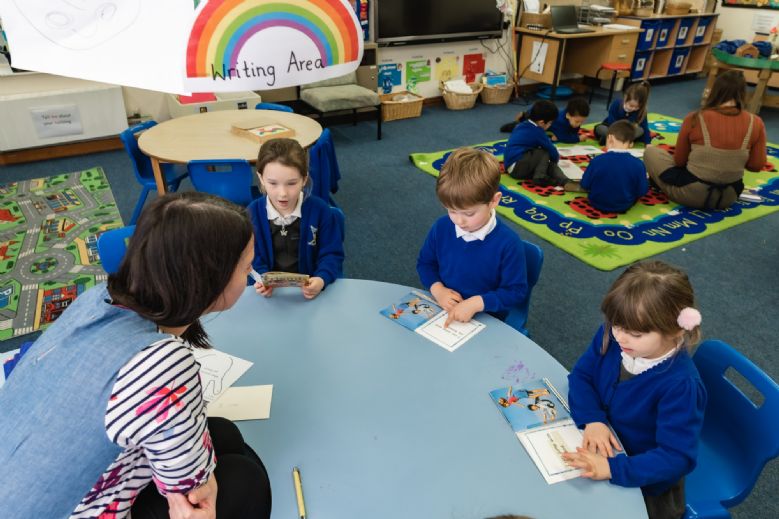 Speaking and Listening
We support our children in developing the skills necessary to speak fluently and confidently to communicate their ideas and emotions. Through our exciting and engaging curriculum, we actively encourage our children to communicate their thoughts and ideas with explicit teaching of subject specific vocabulary where appropriate. Children are given the opportunity to reflect on both their learning and feelings.
Humanities
As part of our humanities studies at Queensway, children will have opportunities to explore places with different geographical features and immerse themselves in the historical time periods to develop and enhance their understanding of what life was like during these times. In order to facilitate this, we arrange trips and experiences as well as inviting experts in these fields into school to share their knowledge and experience of the topic.
Geography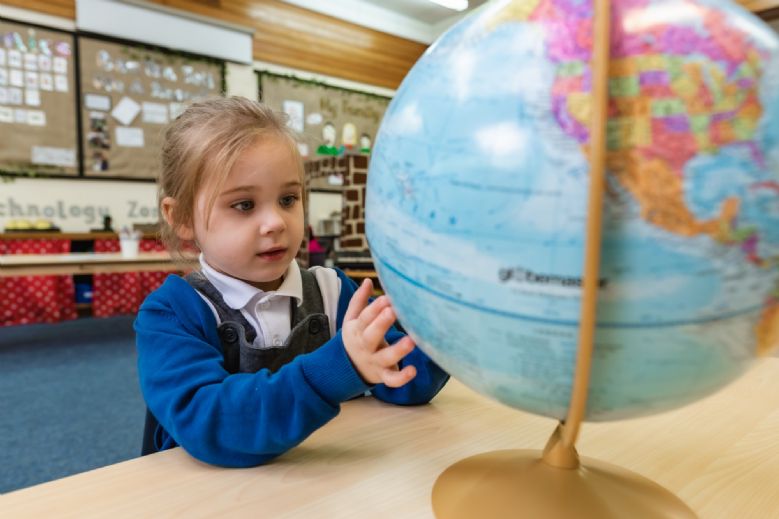 At Queensway, we aim to promote an understanding of a wide range of places and people, covering geographical features of Britain and across the World.
In Key Stage 1, we focus on geography of the local area and community, as well as widening the children's understanding of some geographical features, such as their address. We compare countries within the United Kingdom, including naming and learning each of the capital cities. In doing so, we believe that children will build an awareness and understanding of where they live in relation to other important places within our country.
Throughout Key Stage 2, we encourage children to develop a greater understanding of the physical geographical features, including caves and coastal areas. Children will learn about the human impact on the environment and why it is important to take responsibility for our actions.
History
At Queensway, children will learn about a wide range of time periods throughout history, covering historical time periods in Britain and across the World. We believe that children should have a secure understanding of events which have happened in the past and how these have had an impact on the way we live today.
In Key Stage 1, we focus on history of the local area and community, as well as widening the children's understanding with studies about important historical figures, such as Florence Nightingale, and events in Britain such as the Great Fire of London.
Throughout Key Stage 2, children will learn about a range of topics, incorporating British history and various historical periods from around the world, such as: Ancient Greece, the Roman Empire, Ancient Egypt. Children will develop a greater understanding of chronology and learn about the order of various historical periods and events: beginning from the Stone Age and Iron Age, up to the impact of World War Two in Britain.
As a result, we believe that the children of Queensway have the opportunity to grow into well-rounded historians, developing an awareness of how history has shaped wider world and understand how this affects the different cultural beliefs of people throughout the world.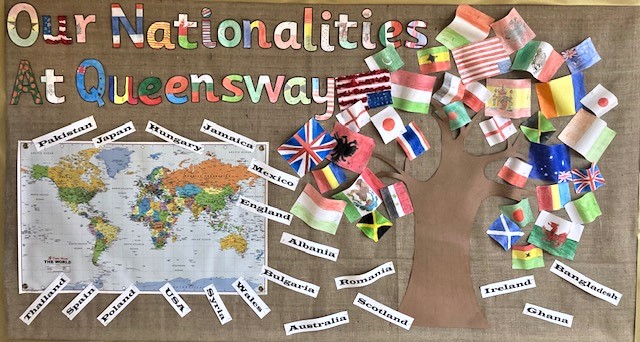 RE
At Queensway, the children receive a rich and engaging Religious Education, which is centred upon respect for other people's beliefs and faiths. RE is celebrated in a creative cross-curricular approach, with regular opportunities for community cohesion and participation. The children use their natural curiosity to ask questions and are encouraged to actively seek answers about different faiths. This subject is taught in accordance with the Oxfordshire Agreed Syllabus, which provides a framework for exploration in Key Stage 1 and Key Stage 2. The religions studied at Queensway reflect the faiths in our school community. Therefore, the children study Christianity, along with the following religions, Judaism, Islam, Hinduism and Sikhism over their time at Queensway.
In Key Stage 1, the children explore a range of faiths through discussing religious stories, depicting their meanings and making links between different faiths. They also study different religious celebrations and festivals through a range of experiences, from performing in the Christmas nativity play to joining in with special themed days. Furthermore, they have the opportunity to meet religious individuals and visit places of worship in our local community, to help them build upon their understanding through practical experiences.
In Key Stage 2, the children consolidate their knowledge about different faiths, celebrations and beliefs in our community and around the world. They develop their inquisitiveness, by asking thoughtful and searching questions about their own and other people's attitudes and ways of life. They continue to evaluate their own ideas, beliefs and lifestyle in relation to those around them.
The children participate in collective worship during whole school assemblies, Key Stage assemblies or individual class time. At Queensway, we provide children with the opportunities to reflect, to develop community spirt and to celebrate a shared ethos.
We believe through their Religious Education at Queensway, the children will acquire the skills needed to become well-rounded citizens, which show respect and empathy to others, regardless of their religion or beliefs.
Computing
​Computing is an integral part of our everyday lives and will play an immeasurable part in our children's future.​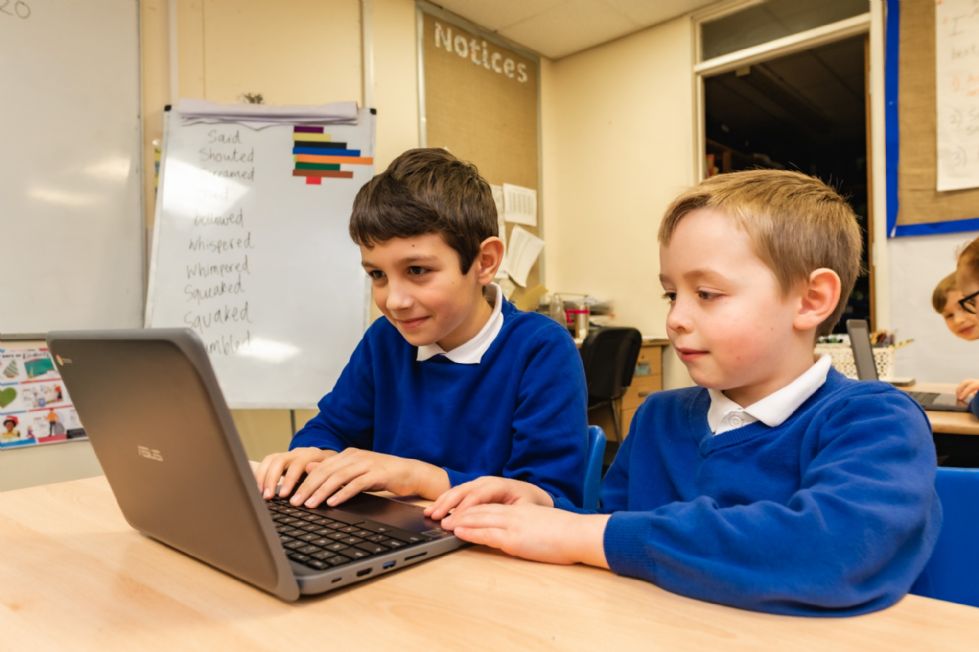 ​At Queensway we provide all of our children with the skills, creativity and​ enthusiasm to live and thrive in a world which is becoming increasingly dependent on computing. As computing technology underpins today's modern lifestyle, it is essential that all pupils gain the confidence and ability that they need in the subject. This will prepare them for the challenges of a rapidly developing and changing technological world.
Through computing, children will develop their understanding of how technology works, how computer systems are designed and programmed, and this will allow children to develop their computational thinking. The children have many opportunities to use technology. While all the basic IT skills are covered (e.g., making a simple Word document or using Paint programmes), the children's experience soon develops, and so at Queensway children are beginning to blog, make web pages, create computer games and animation. As they go through the school, they will explore augmented reality, social networking and coding, where they will be encouraged to generate content for younger children. We believe this gives them all the experiences they need to prepare them for 21st century lifestyles.
Using technology safely is central to our approach to learning. Children will be taught to use technology safely and responsibly, as well as taught to discuss how to report any concerns that they have with an adult.
Maths
In Maths, we follow a Maths Mastery approach. Our expectation is that there will be a high level of performance for all. Teachers keep the class working together whilst addressing the needs for all pupils to master the curriculum. Opportunities within the planning (for example questioning, reasoning and differentiated activities) will ensure that some pupils will gain greater depth and proficiency. Teachers adopt the mind- set that all children can achieve with good teaching, appropriate resources, effort and a can-do attitude. The maths curriculum is designed to focus on fewer topics in depth with opportunities for repetition and application. We believe that depth is the key in avoiding the need to repeat teaching and helps children to achieve sustained learning. Children will be encouraged to develop skills of explanation and reasoning to show the depth of their understanding. We follow the Queensway calculation policy which is available to parents on the school website. This explains progression through the four operations and the strategies that we use at Queensway.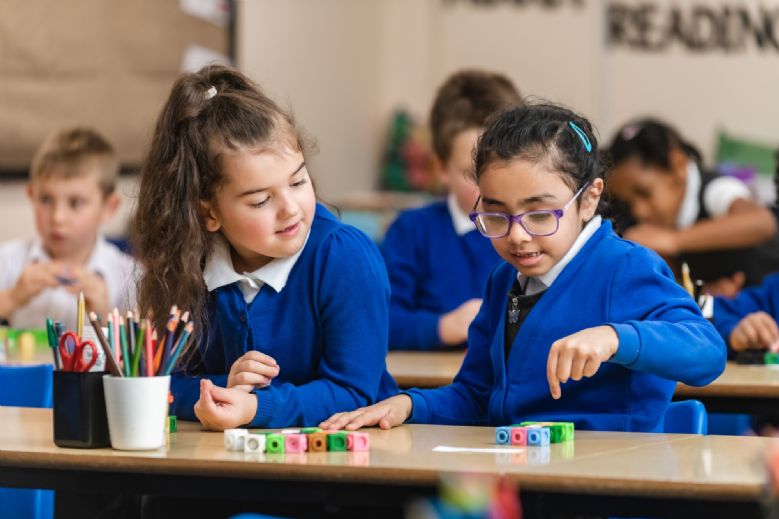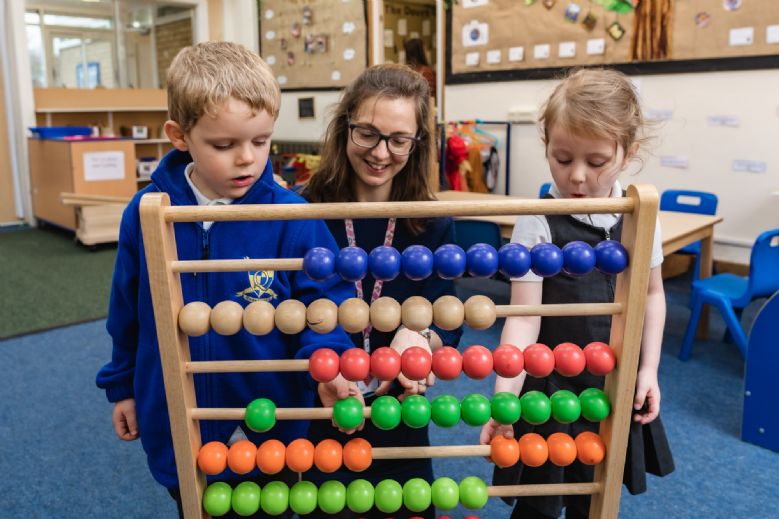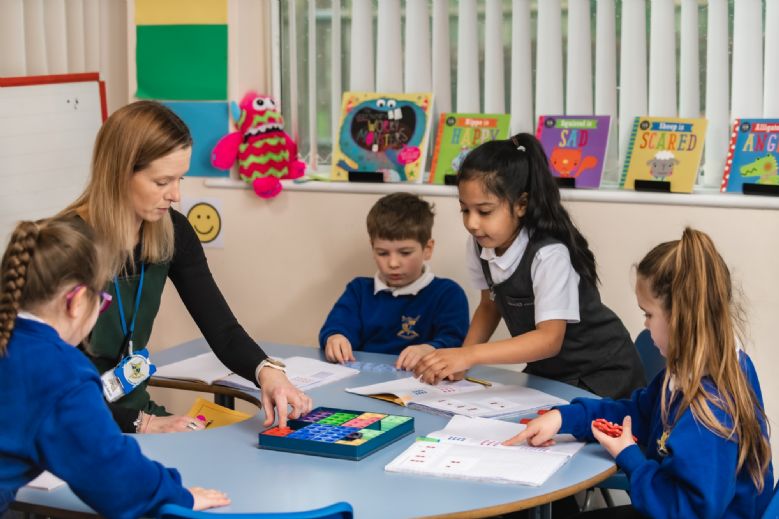 All classrooms have a range of practical resources to help with the teaching of Maths. It is important that all children can use a range of resources and understand the limitations of these. The resources that are available varies throughout the year groups, but every class has access to Numicon, Cuisenaire, multilink and dienes. Tens frames are used in key stage one. At Queensway, we do not follow a maths scheme, but teachers use a range of resources which includes Maths No Problem, Inspire Maths, Power Maths and White Rose.
Modern Foreign Languages
At Queensway Primary School we believe that the learning of a foreign language provides a valuable educational, social and cultural experience for our pupils. It helps them to develop communication skills including key skills of speaking and listening and extends their knowledge of how language works. Learning another language gives children a new perspective on the world, encouraging them to understand their own cultures and those of others. And we believe learning a language can be a lot of fun!
At Queensway all children in Key Stage 1 and 2 learn French on a weekly basis with their class teacher.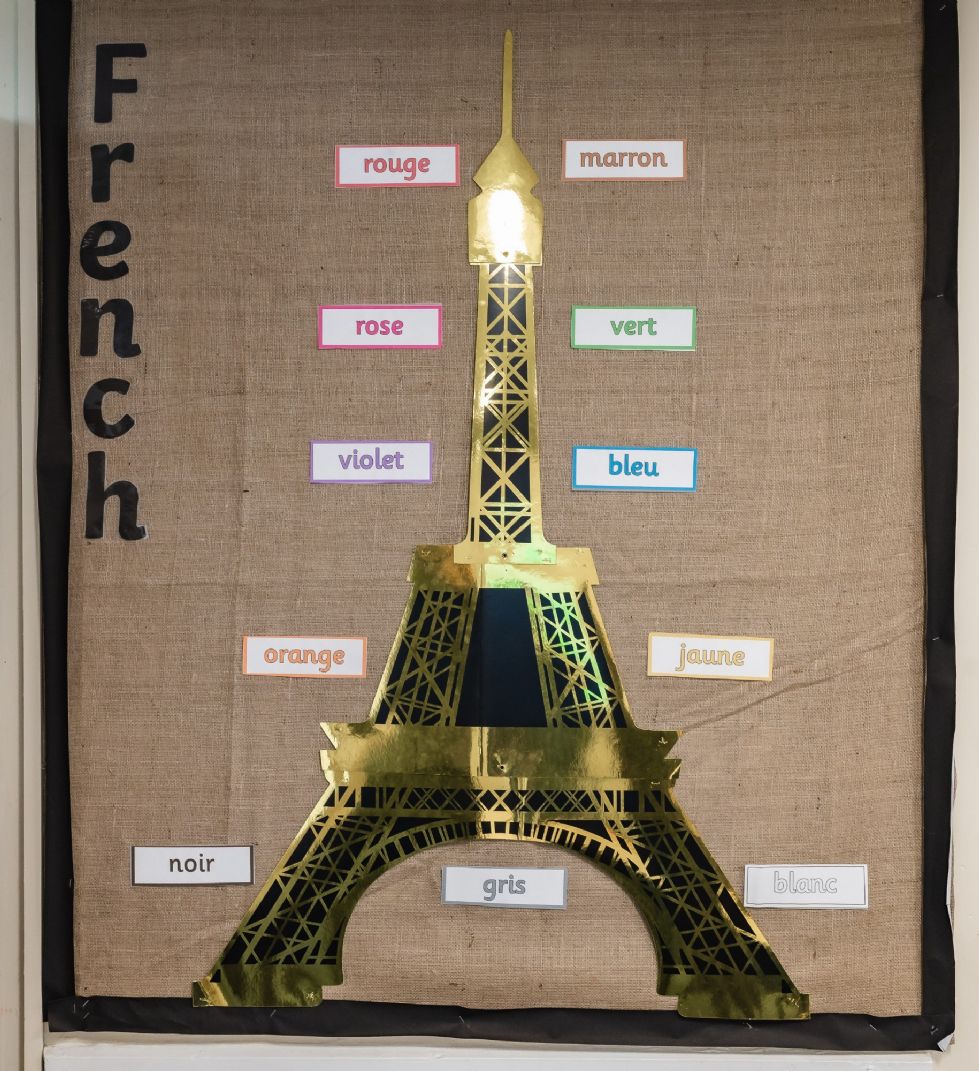 French is also embedded in other lessons. For instance, some instructions may be given in another language in PE; or children may count in another language whilst carrying out a maths activity. This acts to reinforce the vocabulary and structures they have learned.
French is also used in the day-to-day language of the classroom. For example, teachers use the foreign language to give simple classroom instructions ('come in quietly'; 'listen'; 'look') to ask questions ('what's today's date?') and to take the register.
We also have an annual French Day at Queensway, which allows children and their parents to fully immerse themselves in learning about the language and cultures. It is always a wonderful day of games, food and costumes.
PSHE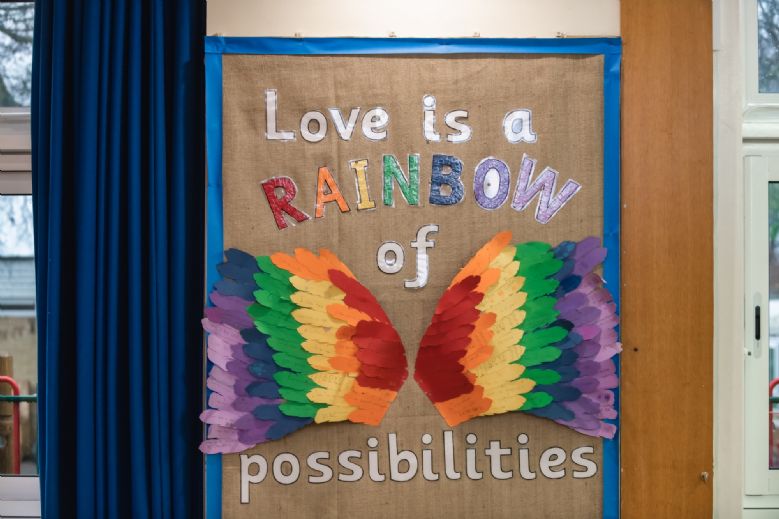 PSHE Curriculum
PSHE (Personal, Social, Health and Economic Education) is embedded in everything we do at Queensway. We strive to promote pupils' self-esteem and emotional well-being through our curriculum, school environment and ethos. Through PSHE, we help pupils to form and maintain worthwhile and satisfying relationships based on respect for themselves and for others, at home, at school, at work and in the community. PSHE is an integral part of Queensway's ethos, thus we encourage and support children to adopt a 'can do' attitude, be focused and resilient, challenge and question, be independent learners and be respectful, well-mannered and caring.
The majority of our PSHE planning uses SCARF (Coram Education) as a starting point to build upon. The programme aligns with our ethos of promoting children's wellbeing and an understanding of mental health and therefore provides a strong foundation for our curriculum. The curriculum is broken down into 6 key themes:
Being my best
Me and my relationships
Valuing difference
Keeping myself safe
Rights and responsibilities
Growing and changing
Children explore and develop these skills every year, building a toolkit of strategies which they can apply in scenario-based lessons, thus providing the children with the opportunities to practice these skills in a safe and caring environment.
At Queensway, we feel that it is vital that children learn about a range of similarities and differences, such as physical appearance, personality, likes, dislikes and opinions. This helps them to understand that we are all unique human beings and that we should be proud of this. Within the context of these lessons, children will also be introduced to different cultures, ethnicities, religions and beliefs and also learn about LGBTQ+ people, as well as those with disabilities or special needs. When discussing any differences between people, we teach children to form opinions about others based on whether they are kind, law - abiding, respectful, trustworthy, and responsible people, rather than judging them on appearance or particular aspects of their lifestyle which may be different to their own. This is supported by our LELE project (Learn Equality, Live Equally) work we have completed as a school.
As a school, we are extremely passionate about equipping children with the building blocks to develop and maintain positive mental health, including strategies they can use to support themselves if they are feeling low or anxious. As part of our work to support children's emotional regulation, each class uses 'Zones of Regulation' to support discussions around emotions and how we can support our brain, to be ready to learn.
We recognise that for some children, developing positive mental health and wellbeing can be challenging and therefore, additional focussed teaching may need to be put into place to support this. Working closely with the Mental Health Schools Team enables us to provide early intervention for those who need additional support. These interventions help our children to understand themselves, their emotions and how to be successful both in and outside of school.
SCIB
Embedded within our teaching of PSHE is the desire to tailor our curriculum to what the children really need. Therefore, we also follow a curriculum designed by experts in our local community - Safeguarding Children in Banbury. The SCIB progression of skills are differentiated and taught appropriately based on the children's age and level of understanding and these sessions are taught by class teachers within weekly PSHE education lessons. Each year group follows a progression of key learning objectives which relate to PSHE outcomes. The three strands that we teach through the SCIB curriculum are:
Substance Abuse
Online Safety
Exploitation
The curriculum is taught three times a year alongside our PSHE curriculum. During these lessons and through scenario-based activities, the children have the opportunity to develop crucial skills, confidence and the ability to tackle new and unfamiliar situations that they might find themselves in throughout their lives. The three key skills are:
Recognise early warning signs
Risk assess
Take action
Relationships and Sex Education (RSE)
With effect from September 2020, the content of our provision in PSHE (Personal, Social, Health Education) and RSE (Relationships and Sex Education) has changed, in line with statutory elements.
At Queensway, we have always taught a broad and balanced curriculum within PSHE that references areas such as relationships, drugs, tolerance and respect and online safety etc. These areas will continue to be taught alongside new areas of learning.
Parents have the right to request that their child is withdrawn from some or all of sex education delivered as part of the statutory RSE. Before granting any requests, a discussion with Mrs Horbury-Jakeman would take place to ensure that the parent's and children's wishes are understood and to clarify the nature of the curriculum.
Much of our 'Sex Education' falls within the science topics covered across the school such as life cycles, health and hygiene and puberty and is therefore a normal part of teaching. Additional information will be shared with parents prior to the teaching of 'Sex Education' in Years 5 and 6.
Additionally, we also engage our Year 6 children in 'Project 10' which is a Safeguarding project for young people and their parents.
Science
At Queensway, we recognise that in an increasingly scientific and technological age children need to acquire knowledge, skills and attitudes to better prepare them for modern life.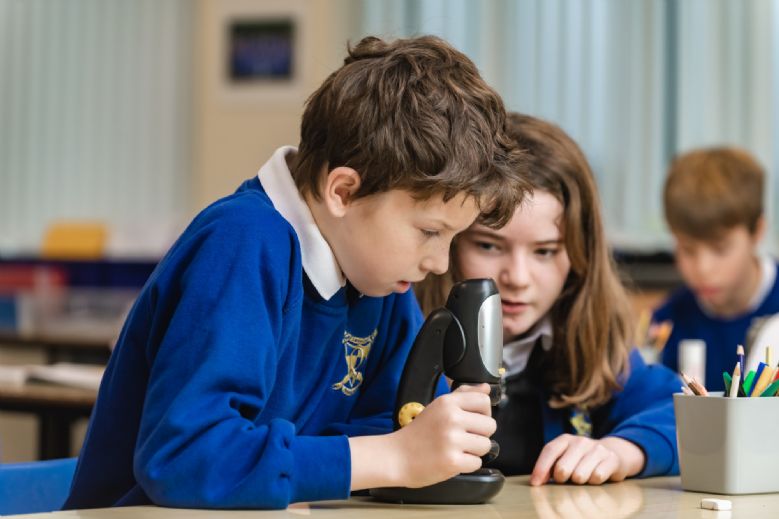 Young children are naturally curious and passionate about learning. At Queensway we provide a stimulating science curriculum that nurtures children's natural curiosity and their on-going intellectual development. Through a hands-on, inquiry-based curriculum, children will experience the joy of having wonderful ideas, exploration and investigation – that is, the joy of finding out.
Real-life experiences are a fundamental part of our approach and members of the community are regularly invited in to share their experience and expertise. We draw upon strong links with Banbury Space Academy to facilitate hands-on science experiences which inspire and develop challenge. Similarly, we engage our pupils with exciting school trips and visitors to enhance the curriculum.
At Queensway there is a whole school ethos of understanding and caring for the world around us and an understanding of our responsibility towards both the immediate and wider environment and community. This is demonstrated our well-attended Eco-club, involvement in community projects such as 'Banbury in Bloom' and annual Science Days. The annual Science Day is carefully chosen to boost the profile to science across all key stages.
We recognise that the school grounds offer a rich resource which we can utilise to inspire and effectively meet the requirements of the EYFS Framework and National Curriculum Programmes of Study.
Our dedicated team of teachers deliver weekly science lessons by following a clear long term plan. Our science progression of skills document provides a clear overarching framework from which teachers can plan well-sequenced and differentiated lessons. The Science Leader is responsible for careful monitoring of planning, resources and ensuring staff are equipped to plan and deliver lessons confidently.
Sports & PE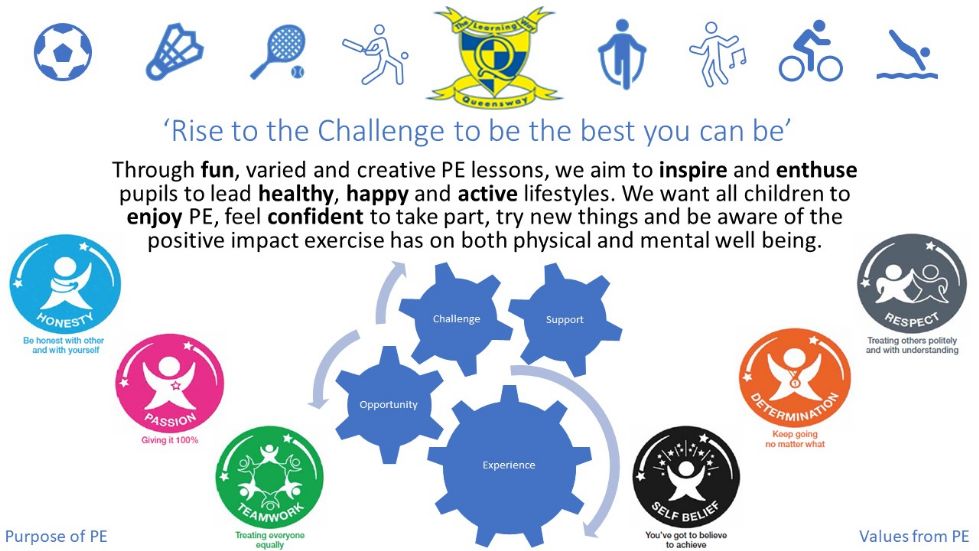 Curriculum
At Queensway, we believe that physical education, experienced in a safe and supportive environment, is a unique and vital contributor to a pupil's physical development and well-being. Through PE & Sport our children learn to develop the important qualities of discipline, resilience, communication, teamwork, and ambition, leading to improved concentration, attitude, and academic work.
Our PE curriculum aims to ensure that all pupils develop the fundamental skills and competence to excel in a wide range of physical activities by providing a broad & balanced curriculum with opportunities for all to be enjoyed.
Children at Queensway receive two hours of physical education per week (indoor and outdoor). As well as these lessons, all children participate in physical activity throughout the day, including active brain breaks using active videos, weekly mile, active play at break and lunch with the support of teaching assistants and playground leaders, an active breakfast club and after school club and active lessons, focusing on the children moving around and increasing their levels of physical activity. The PE curriculum is enhanced by a wide range of physical extra curriculum clubs and taster sessions.
Children in Year 5 also participate in three half terms of weekly swimming lessons (classes swap after three half terms), which are facilitated by qualified swimming instructors at Queensway School, as well as Spiceball Leisure Centre.
We offer a programme of intra and inter school competitions through our partnership with NOSSP (North Oxfordshire School Sport Partnership) who provide opportunities for pupils to participate in competitive sports and activities both in and beyond the curriculum.
Houses
Every pupil in the school becomes a member of one of our House teams and each term they have the opportunity to participate in an exciting inter-house competition.
| | | | |
| --- | --- | --- | --- |
| Sulgrave (Red) | Broughton (Blue) | Wroxton (Green) | Upton (Yellow) |
PE & Sports Premium Funding
All schools receive PE and sport premium funding based on the number of pupils in years 1 to 6. The funding is ring-fenced and must be spent on improving the provision and quality of PE and sport in primary schools so that pupils develop healthy lifestyles.
Keeping Active Links
Both Sport England and the Youth Sports Trust have both launched web-pages dedicated to ideas for getting active while at home and helping children to meet the chief medical officer's recommendation of at least 60 minutes of daily activity.
https://www.sportengland.org/news/how-stay-active-while-youre-home
https://www.youthsporttrust.org/free-home-learning-resources
In addition there are lots of other FREE resources
BBC super movers
https://www.bbc.co.uk/teach/supermovers
Joe Wicks Body Coach (Kids workout)
https://www.youtube.com/results?search_query=joe+wicks+kids+workout
Just Dance
https://www.youtube.com/results?search_query=just+dance+kids
Cosmic Kids Yoga
https://www.youtube.com/user/CosmicKidsYoga
Go Noodle
https://www.youtube.com/results?search_query=go+noodles+for+kids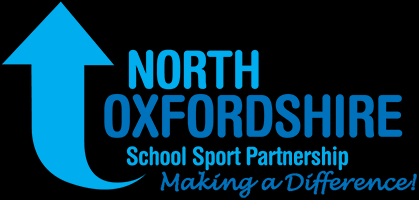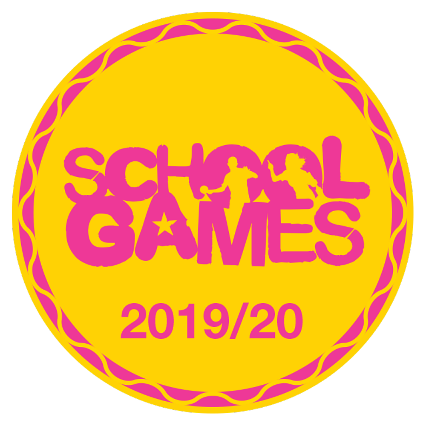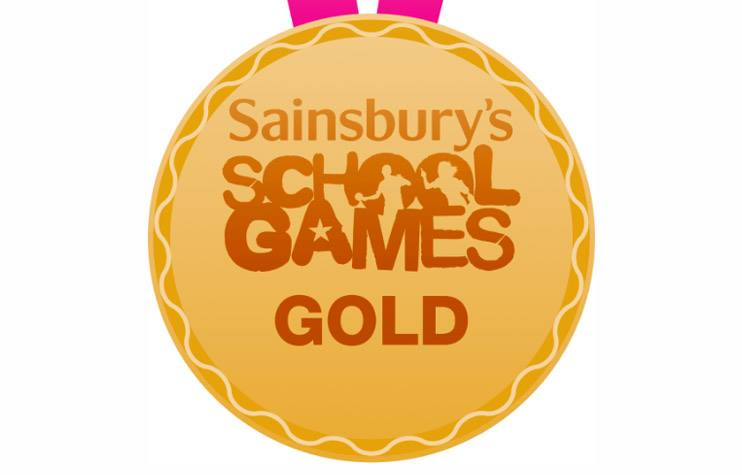 The Arts
Art & DT
At Queensway, it is our aim for the children to be creative and imaginative in their Artwork. We strive for the children to be skilled at using colour, texture, sculpture, shape, line and tone. We aim to immerse the children in the work of various Artists and their styles, so that they can learn how to create art in a similar style. We believe that it is important that all children should be able to feel as though their work is valued and one way in which we aim to achieve this at Queensway is through the use of Art Galleries. Children take part in weekly Art lessons. Art and Design and Technology (DT) is taught on alternate terms to ensure that the children get an equal amount of teaching in each area.
DT is taught through enabling the children to develop the designing, making and evaluation of products using a variety of appropriate skills and materials. As well as developing their design knowledge, children will be taught to create high quality products through combining their designing and making skills with knowledge and understanding. They will be encouraged to think creatively as well as learning to develop an understanding of technological processes, products, their manufacture, and their contribution to our society.
As an ethos running through the school, teachers aim to ensure that children's Art and DT lessons are linked to other areas of the curriculum. We have had lessons linked through Drama, Music, Writing, Art and Design.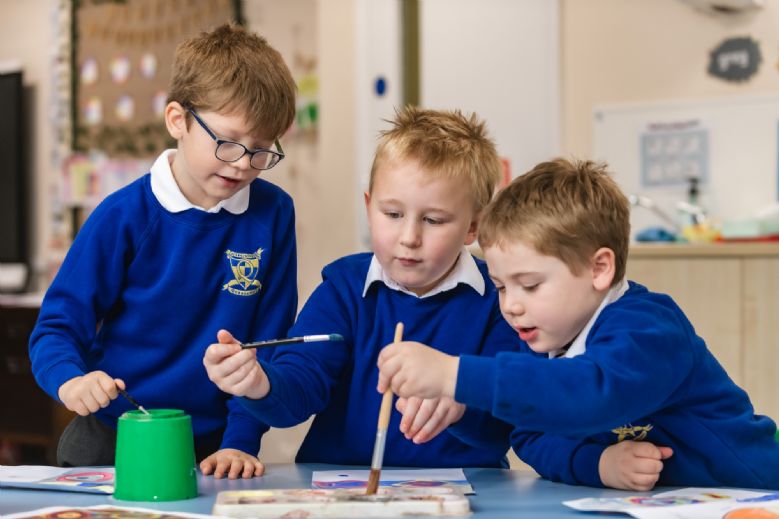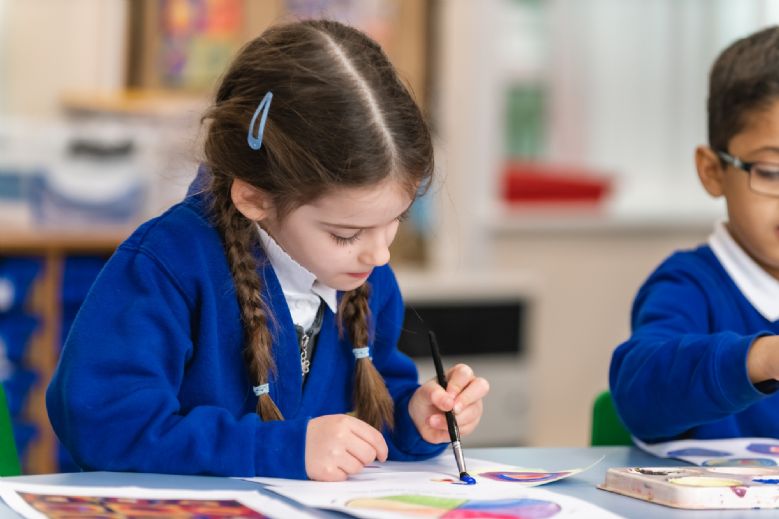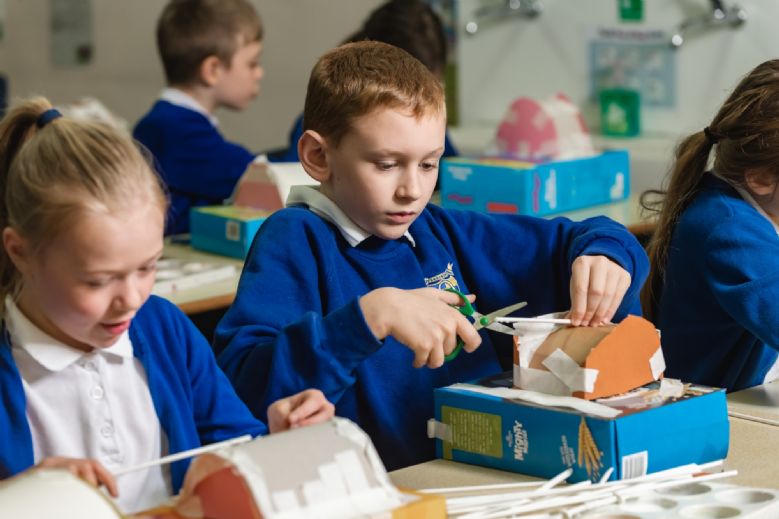 Music
At Queensway we aim to inspire children to be excited about music. As staff we hope to pass on our enthusiasm and help children develop self-belief in their own musical abilities. Within our teaching we aim to contribute to the creative, spiritual, emotional, and cultural development of all children, encourage children to listen attentively and appreciatively to a wide variety of music styles, time periods and cultures. We enable children to confidently express their ideas, thoughts and feelings through music making, but most importantly enjoy creating music.
Children are taught using the musical program Charanga as well as focusing on composition linking to other areas within our curriculum. Within all units of work, the interrelated dimensions of music are included; these are duration, dynamics, pitch, structure, tempo, texture and timbre.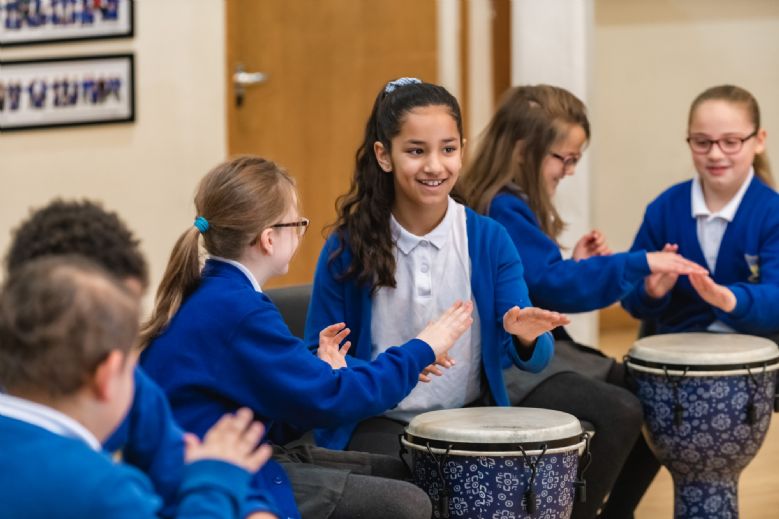 In addition to weekly music lessons, we also offer many other opportunities for children to develop their musical abilities such as:
Learning a musical instrument through Music for School tuition
Developing their ability to play a musical instrument through lunch time and after school clubs
Developing their singing through participating in the School Choir
Having the opportunity to perform in public such as participating in the Children Singing for Children concert
Participating in Year 2 Nativity Play, KS 2 Carol Concert and Year 6 production
Taking part in weekly singing assemblies
Arts Mark Award
We are thrilled to say that we have been awarded the Silver Artsmark Award. The children and staff have been working hard in all areas of The Arts (Art, DT, Dance and Music) over the last two years and we have been recognised for that! The children took part in lots of cross-curricular learning, including drama workshops, music lessons and art lesson, all linked through a text. It is a fantastic achievement, and we are looking forward to sharing more of the work in the Arts with each other and you!

Themed Days
At the end of every term, all classes take part in a themed day, such as science, sport, health etc. It enables the children to engage in some fantastic cross-curricular learning. Parents are invited every term to take part in a shared lesson with their child. This is a great way of seeing how school operates and how the children learn.