Uniform
There is an expectation that all children will be safely and smartly dressed in school uniform. The uniform has been chosen to be practical and economical. Many uniform items are widely available from a range of local shops. 'Cross Embroidery', based at Lower Cherwell Street, Banbury, supply items with the Queensway logo. https://www.crossembroidery.com/schoolwear/46-queensway-school
It is perfectly acceptable for children to wear branded or non-branded uniform, ie with or without the Queensway logo, as long as it complies with the correct colour scheme as listed below.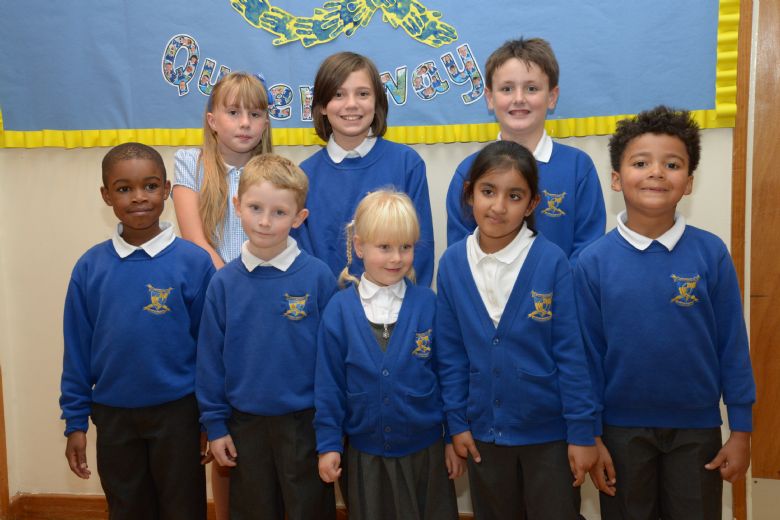 WINTER
Trousers/skirt: Traditional style grey trousers. Jeans and tracksuit bottoms are not appropriate. Grey knee-length skirt or pinafore. No leggings to be worn.
Shirt: White polo shirt, white shirt or blouse
Sweatshirt: Royal blue jumper or cardigan or Queensway sweatshirt.
Socks: Plain, dark coloured or white socks or grey opaque tights
Footwear: Plain, black shoes or trainers for outside. Plain black plimsolls for indoors. No high heeled shoes please.
SUMMER
Children may choose to wear grey knee-length shorts, or blue and white checked knee-length dresses. No leggings to be worn.
Optional: Royal blue or grey headscarf.
PE
Shorts/Trousers: Plain navy shorts or plain navy tracksuit bottoms
T-shirt: Plain white T-shirt
Footwear: Indoor PE – bare feet
Outdoor PE: Trainers (different ones to their walking to/from school trainers)
Tracksuits and coats with the Queensway logo can also be purchased from Cross Embroidery.
EVERY ITEM OF CLOTHING BROUGHT OR WORN TO SCHOOL MUST BE CLEARLY NAMED
JEWELLERY
The only jewellery permitted in school is a single pair of small sleeper studs for pierced ears, and a small wristwatch. It is school and Local Authority policy that no jewellery may be worn during PE lessons.
HAIR DESIGNS
Children are not permitted to have their hair coloured, cut with designs shaved in or spiked up in a Mohican. Children must tie their hair back for PE lessons. Hair accessories must be the school colours and discreet.
MAKE UP, NAIL VARNISH AND TEMPORARY TATTOOS
No make-up, nail varnish or temporary tattoos are permitted unless necessary for a concert, play or after school event. If present, then we will contact the parent/carer to ask for it to be removed.
If there are religious, cultural or medical reasons for your child not to comply with our uniform policy please contact the school so that staff can be made aware of the situation.