Queen's Platinum Jubilee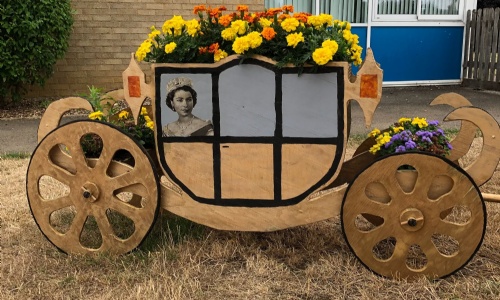 Recently, Queensway School celebrated the Queen's Platinum Jubilee and explored the history of Great Britain, which was fantastic. On 6th June, the children came into school dressed in red, white and blue and were asked to explore a decade of the Queen's reign. We were all blown away by the enthusiasm and passion the children showed for diving deeper into a period of time.
Throughout the day, the children looked at different genres of music, key events in history and different artwork and fashion. This was all in preparation for an exhibition to share the children's Jubilee work to their grandparents. Unfortunately, due to the rain, the children held a street party in the classroom. However, the weather did not dampen our fun and we all had a wonderful time.
Finally, we were then lucky enough to invite parents and grandparents to walk around the exhibition with the children, allowing us to take a trip down memory lane and a step back in history and for the children to share their hard work. Thank you again to all parents and grandparents who visited our exhibition, it was fantastic to have you back in school.