Children's University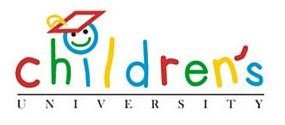 Queensway School joined the Children's University in September 2018. The Children's University (CU) aims to promote social mobility by providing access to high quality out-of-school hours Learning Activities to children aged 5 to 14, engaging the wider communities as Learning Destination partners in the process. At the heart of the Children's University is the ambition to raise aspiration, boost achievement and foster a love of learning. Your child is invited to join us on a journey of learning and fun whilst earning learning credits in their own, individually numbered passport, collecting awards and certificates along the way.
The Children's University is an extra-curricular learning programme which takes place outside of the classroom and encourages 5 to 14 year olds to try new experiences, develop new interests, acquire new skills and have fun through learning within a variety of different areas. The learning is voluntary and children may participate as little or as often as they wish. Each child joining the Children's University (£5 joining fee) will receive a Passport in which they can collect their Learning Stamps. Starting with a Bronze Award for 30 hours of CU Learning Activities up to a Gold Fellowship Award for 1,000 hours. A 30 hours Bronze Award can be awarded for one or more activities but after that your child should have at least 5 hours of learning something new for the Silver level and then 10 hours of something new for their Gold and all the other Awards over 100 hours.
All children who join the Children's University are given an individual 'Passport to Learning' in which they can collect and record the hours of learning (credits) that they have achieved through taking part in Children's University accredited learning activities. At level 1, children will ultimately work towards the National Children's University Degree with awards and certificates awarded in school along the way.
Learning hours can be earned in various ways through a growing number of different places and sources such as:
Holiday challenge sheets from Queensway

Local and national learning destinations such as: Banbury Library, Banbury Museum, Wade Gymnastics, Stagecoach, Pets at Home, Warwick Castle, Woodland Trust and many more.

Online worksheets accredited by the Children's University
Further details of local and national learning destinations can be found online at:
www.childrensuniversity.co.uk/home/learning-destinations whereas other information about the Children's University can be found at www.childrensuniversity.co.uk.
We hope to get even more local learning destinations involved in the future – where your children can earn learning credits through the structured clubs that they already attend. We welcome your children telling us about clubs which they attend or other places of learning that they enjoy so that we can approach them to see if they would like to be accredited in the future so that your child and others can earn credits through them. We plan to get some lunchtime and after school clubs validated and we will let you know which clubs are included.
If your child would like to join us on our journey with the Children's University, please contact the school for a form to complete. There is a one-off payment of £5 to cover the cost of the passport which can be made via ParentPay. We will then issue the passport to your child.
If you have any questions or would like to find out more please contact the school.
We hope you will come and join us on our journey!